[ Home | Tour | News | Photos | F.A.Q. | E.S.L. | Schools | Ham Radio | In the Press | Technical | Publications | Links | Papersat ]
Tour of the SUNSAT Web Site
---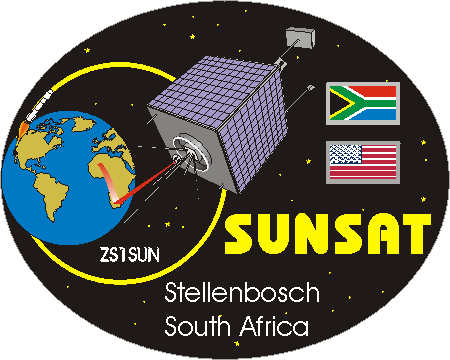 What is SUNSAT?

What is SUNSAT?
SUNSAT is a microsatellite being developed at the University of Stellenbosch by postgraduate engineering students.
When did it all start?
In 1989, lecturers of the Engineering Faculty started planning. The SUNSAT programme commenced in 1992 with 12 graduate Engineering students starting development work in the SUNSAT laboratory. At present we have a team of 28 students each responsible for some component of the satellite.
What contribution is made by the students ?
SUNSAT students have designed and built most of the electronics, and approximately half of the mechanics.
Technical personnel of the Engineering Faculty assisted with technical drawings, printed circuit board layout and manufacturing of the satellite structure.
What is the purpose of SUNSAT?
Satellite images of cultivated fields, natural vegetation and pollution - anywhere in the world.
An electronic mail box which orbits the earth to receive and deliver messages.
Speech and data relay experiments to school students.
An unique method of training Masters degree students.
Research in satellite engineering.
How big is SUNSAT?
SUNSAT's dimensions are 450mm x 450mm x 600mm.
SUNSAT was designed to weigh only 50kg. Since the addition of the GPS receiver , the mass increased to 60kg.
Major components of SUNSAT:
Solar panels on all 4 sides and re-chargeable Nickel-Cadmium batteries.
On-board computers: 80C188 and '386 as in personal computers.
Telecommand and telemetry equipment to monitor and control the satellite.
Attitude determination with horizon, sun and star sensors as well as a magnetometer.
Orientation control with reaction wheels, magnetorquers and a gravity gradient boom.
Communications transmitters, receivers and antennas.
High resolution camera that photographs the earth in stereo and colour.
Structure with attachment and release mechanisms to the launch rocket.
Numerous software programs in the satellite as well as in the groundstation.

When will SUNSAT be launched?
SUNSAT is scheduled for launch in early March or May 1998 by NASA from the Vandenberg Air Force Base in California, USA. The launch vehicle will be a DELTA II rocket (shown at right) during mission P-91. Along with SUNSAT there will be a satellite from the USAF and a Danish micro satellite, ØRSTED.
What is SUNSAT's orbit?
The orbit is elliptic with a perigee of 400km and an apogee of 830km. The earth-centered, true-of-date orbit elements at the 1 September 1995 epoch are as follows:
    SMA = 6997.2445 km              RAN = 339.694069 deg
    ECC = 0.03131297                AP  = 0 deg
    INCL = 93 deg                   TA  = 0 deg

The predicted orbit lifetimes, in days are as follows:
    Solar Flux          400km x 830km
    -2 sigma                >4098
    mean                    2207
    +2 sigma                1812

For a general overview of the SUNSAT onboard systems you can have a look at this block diagram
---
© Electronic Systems Laboratory 1999
by Buchan Milne
WWW:sunsat.ee.sun.ac.za